Customer Quotes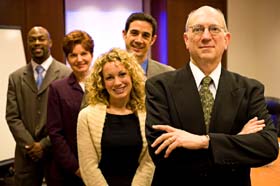 "Without Breakthrough NPD we would not have been able to achieve our data testing in the desired timeframe."
-- Senior Manager
Denso International America
"Breakthrough NPD has a rare ability to work with complex technical details, customer psychology, and market understanding while keeping the big strategic picture in mind all at the same time -- a great asset to any team in a startup or turnaround situation."
-- Michel Giroux, President
Gentec Electro-Optics, Inc
"Breakthrough NPD was very responsive. They provided a thorough and detailed set of customer data. It was helpful to get an independent view of the customer perspective to validate our internal understanding of our customers."
-- Paul Chabot, Director Market Development
ABB Analytical, Quebec, ABB
"Breakthrough NPD provided more technical detail and real content in just their introduction than other technical sources that we consulted had in total. Their honest and well considered recommendations were obviously in the interest of the country and not their own bottom line. They helped the government avoid costs that could have run into millions of dollars. We value their competence and integrity."
-- Manager, US Department of Transportation
"Breakthrough NPD has the flexibility and speed to work with startup companies like ours."
-- Nancy Van Schooenderwoert, Managing Partner
Agile Rules
"Breakthrough NPD helped me redirect my efforts to better connect with my customers."
-- Senior Project Manager, Mark Gardner
Fugro Consultants LP